Sales & Marketing
MedValue's experienced teams can assist you in gaining New Clients, Research Leads, Communicate with incoming inquiries, and more.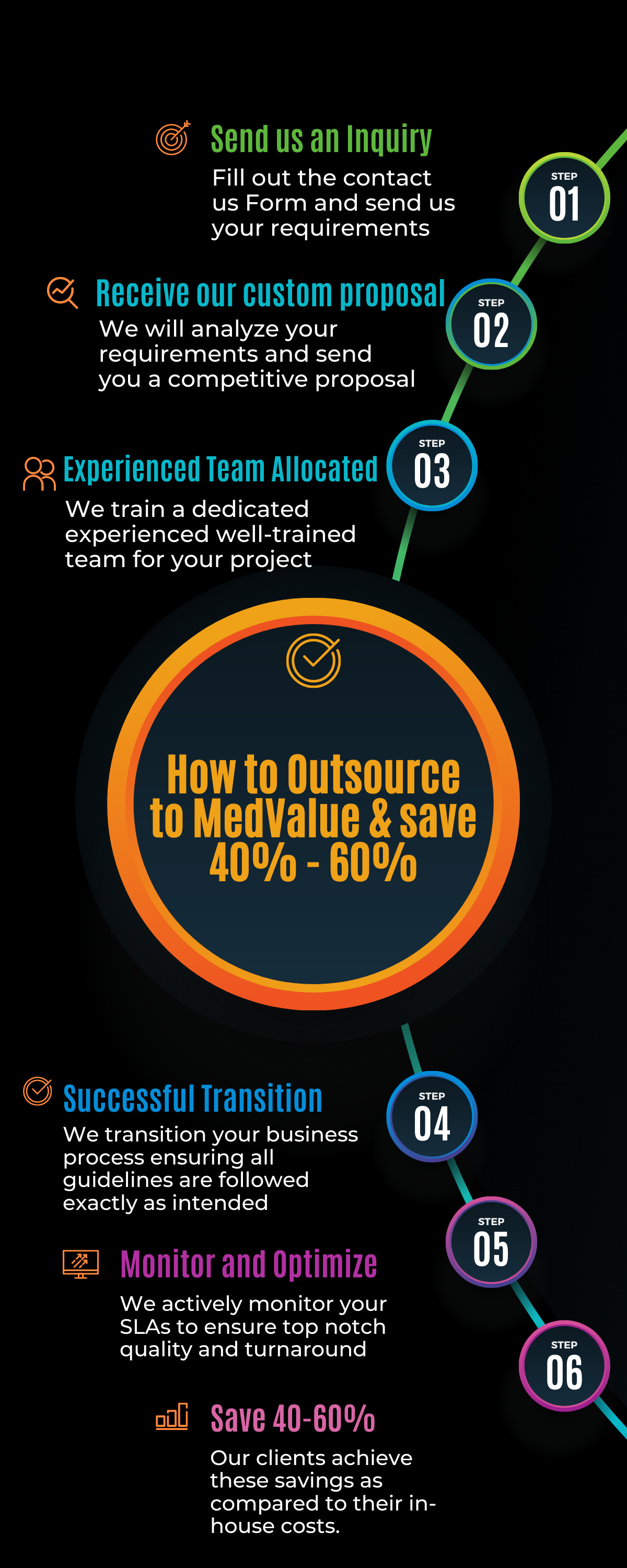 Phone Number : 1-877-528-1683
Conventional modes of running businesses are no longer effective, and companies are focusing on new methods to manage multiple business operations. Outsourcing Professional services is a new tactic that translates into higher sales and more revenue generation.
Professional Outsourcing is a great way to improve productivity and is a remarkable practice followed by modern business organizations. It helps construct a flexible work environment where you can hire skilled employees to perform dedicated tasks when you need them.
Why Choose Professional Outsourcing?
Professional Outsourcing helps companies deal with hectic secondary tasks effectively in the ever-evolving business environment. Offshored professional services usually deal with the administrative tasks.
Hiring third-party professionals enables orderly execution and management of various tasks and have a high score ROI value for multiple reasons.
As a business, you can exercise the following benefits of Professional Outsourcing –
Having expert employees to manage various tasks increases the effectiveness and efficiency of businesses. Outsourcing Professional Services gives you access to the most talented experts who can perform the desired job with maximum efficiency.
Building a team of professionals for tasks like accountancy etc. can add a lot of expenses to your business operations. Professional Outsourcing gives you instant-performing teams without spending anything on hiring, infrastructure, etc.
Permanent employees pose higher risks for companies. You need to invest in their training, and there is also a high turnaround time. In contrast, offshoring professional services ensure consistency in your business and leave no impact even after leaving. Hence it ensures fluent working of multiple business operations with a negligible risk factor.
Most professional outsourcing service providers have multiple remote teams working from various locations across the globe. It thus puts your business at a unique advantage of being available to the customers 24/7, even when you are asleep.
It allows you to skip the tiring tasks of hiring and training. Offshoring brings you skilled teams of professionals readily available to start the operations of your business.
Most Common Outsourced Professional Services Roles –
Accountant
Physician
Teacher
Lawyer
Architect
Engineer
Broker/ Investment Solicitor
IT Consultants.
Why Choose Us?
The teams we link with your business for outsourced professional services work independently and do not interfere much in your in-house business functions.
We use cloud-based computing technology to provide a fluent medium for communication and collaboration.
Our remote teams of skilled professionals work in different shifts that assure the 24/7 availability of your business for the clients.