Outsourcing in Healthcare Industry
Want to know in detail about the various Healthcare outsourcing services that we provide that can increase profitability? Contact us now, and we'll be delighted to assist you.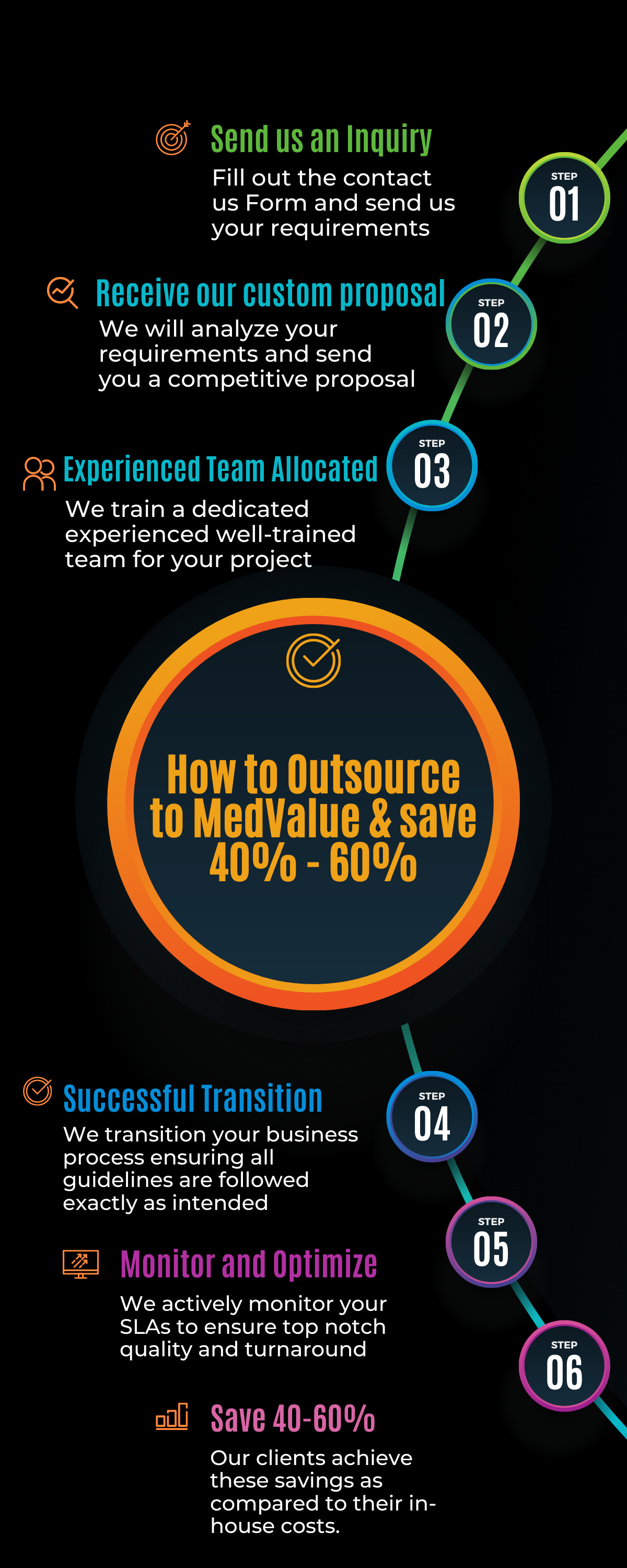 MedValue Member Enrollment Services™
Challenge
Health Plans which are growing rapidly have to deal with constantly adding and updating their Enrollments databases. Many plans take as much as 30-45 days before a new member can be enrolled. Additionally the enrollment paper forms need to be entered into the core claims system and members need to removed on a timely basis for accurate payment of claims.
Solution
MedValue has developed an innovative service, which combines our knowledge of the Membership enrollment business rules, along with a proprietary software and qualified staff in our Operations Center, to convert your Paper Enrollments into an Electronic Format.
Features
1. Convert Paper Enrollments into a Electronic Format
MedValue provides you with an electronic image of enrollment forms as well as a database of all the fields from that form to populate your Core Claims System easily.
2. Handle changes and Member Terminations
MedValue's Enrollments services also processes all changes to the Enrollments forms and Member Terminations elegantly without using any additional staff at your end.
3. Document Management System (DMS)
MedValue's DMS indexes and provides you with the electronic images of all Enrollment Forms and related attachments received, your staff can quickly search for Enrollment information by various parameters.

4. Reports
MedValue also provides you with our Workflow Management System (WMS), and various reports such as Member Enrollments Statistics Report which provide you Demographic Analysis of your members, and Member Change Statistics which provides you information about the major changes your members are making, for you to better manage your health plans' profitability.
Key Benefits
1. Enroll New Members Quickly and start collecting Premiums payments sooner
MedValue converts the Membership Enrollment forms and provides the electronic file within 2 business days, thereby eliminating manual data entry and reduces errors significantly at your end. Since the members are enrolled quickly, you can start collecting premium sooner!
2. Derive Significant Cost Savings
Our services provide savings of approximately 40-60% compared to manual entry of Membership information by your staff. Our service automates the Member changes as well as deletions from your membership master databases.

3. Eliminate Paper and Improve Customer Service
Since you and your staff can now search for Enrollment forms with a click of a mouse, you don't need to spend time searching through information manually in case of customer service calls or research.
Process
The best part is that to take advantage of our service you do not need to change any of your current software, systems or processes. MedValue's Service is simple. All you require is one office assistant at the end of the day for an hour to scan the Enrollment Forms to us.
By the start of the next business day, you will receive an electronic file (either as a database or a CSV file format) that will be imported into your Core Claims Application.
Additionally, your staff will now be able to search and retrieve images of all paper Enrollment forms at the click of a mouse through an elegant web interface to our secure and HIPAA compliant Document Management System.
We store images of your paper Enrollments for six months on-line on our servers and then burn the data onto CDs and ship them to you for easy storage at the office.
No more handling of paper. Our solution is fast and easy to use. With fast turnaround of Member data and secure, instant access to Paper Claim images from anywhere 24*7, you gain improved productivity from your people.